MVP Race
NBA's Highest Honor Could Be Closest Race Ever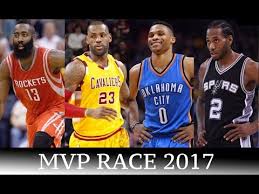 Hang on for a minute...we're trying to find some more stories you might like.
The 2017 NBA season has been full of excitement. Many players have shown their incredible abilities on the court, but critics have narrowed it down to 4 choices for mvp. Based on their stats and the way they play, LeBron James, Russell Westbrook, Kawhi Leonard, and James Harden have been worthy of MVP. Even Kobe Bryant, one of the best players of all time stated "We might see our first co-mvps this season"
LeBron James has been on the NBA scene since 2003 and has been dominating ever since. The 13 time all star has already won 3 titles and has been to the finals 6 times. Also, he has been MVP 4 times. Sports critics say that James may go down as the best player in NBA history. Averaging 26 points, 8.4 rebounds, and 8.8 assists per game, he is taking the game to a new level.
Ever since Durant signed a deal with the Warriors, Russell Westbrook has been in the Thunder's spotlight. All alone, Westbrook has led the thunder to a current 43-31 record. Not only this, but he has already made history this season and is about to make more. Westbrook broke Hall of Famer Oscar Roberston's record for most triple doubles of 41, with 42. Not only this, but he is averaging a triple double this season with 31.8 points. 10.4 assists, and 10.6 rebounds per game. "Russell Westbrook didn't only break the record for most triple doubles in a season, but he averages a triple double with 30+ points," stated Luke Peyton.
Under the coaching of Greg 'Pops" Popovich, some of the greatest players of all time have came out as a Spur. Kawhi Leonard has won back to back defensive player of the year for the last two years and one ring in the 5 years of playing in the NBA. He is averaging 25.9 points, 3.9 assists, and 5.9 rebounds every game. Having the second best record in the west, Kawhi Leonard may lead them to championship gold.
The Beard, James Harden, was a first round pick in the 2009 NBA draft. Selected 3rd overall by the Oklahoma City Thunder, Harden has been one of the players at the top of the ladder. Currently playing for the Houston Rockets, Harden is averaging 29.2 points, 11.2 assists, and 8.1 rebounds per game. Although many sports critics have stated that Harden has no defense in his arsenal, his offense definitely makes up for it. "I like Harden because he has the best Euro Step in the league which creates his amazing offense," said Jack Wiehebrink.
So, when it's all said and done, who will be the 2017 NBA MVP? With many people saying that this year is the most difficult choice ever, these players can still prove themselves better than the others.