Kick Up Your Heels
North Carolina Claims It's 6th Title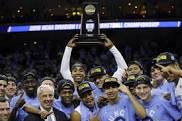 Hang on for a minute...we're trying to find some more stories you might like.
North Carolina, led by sophomore Justin Jackson and junior J.Berry III, earned its 6th national title, with a 71-65 win over Gonzaga. A battle of two number 1 seeds, it started as a game of runs from both teams. Gonzaga, led by senior guard Nigel Williams Goss, had an early lead but the Tar Heels were able to seize control late in a second half that was flooded with foul calls. For Gonzaga this finals appearance was an opportunity to show the country that it belongs in the conversation of most successful programs in recent history. After years of getting in the tournament this small school earned a spot on the biggest stage. With alumni John Stockton and Adam Morrison in the crowd, they held their own.
For North Carolina this was an opportunity to revenge last year's last second defeat to Villanova. "The Big Dance(March Madness) is one time a year when I am really into watching college basketball." said student Jack Peyton. "Watching college basketball helps me learn new moves, which helps me improve my game," Peyton added. The title was the third in head coach Roy Williams career, and second at UNC.
Every year in March since 1939, college basketball has been the most compelling sporting event in the country. Over the years there have been many really good coaches such as John Wooden who led UCLA to seven consecutive championships and ten in all. Because of his actions, UCLA now holds the record for winning the most champions with eleven, leaving Kentucky at the second most with eight championships. Some of the most amazing moments of this tournament consist of Michael Jordan and James Worthy teaming up to win the championship for North Carolina in 1982 and in current day when Oregon upset Kansas to go to the Final Four for the first time since 1939. "March Madness is one of the most exciting sporting events in the world, said PE teacher Mr. Shay. Shay also felt that the two teams that made it to the championship definitely deserved being there.