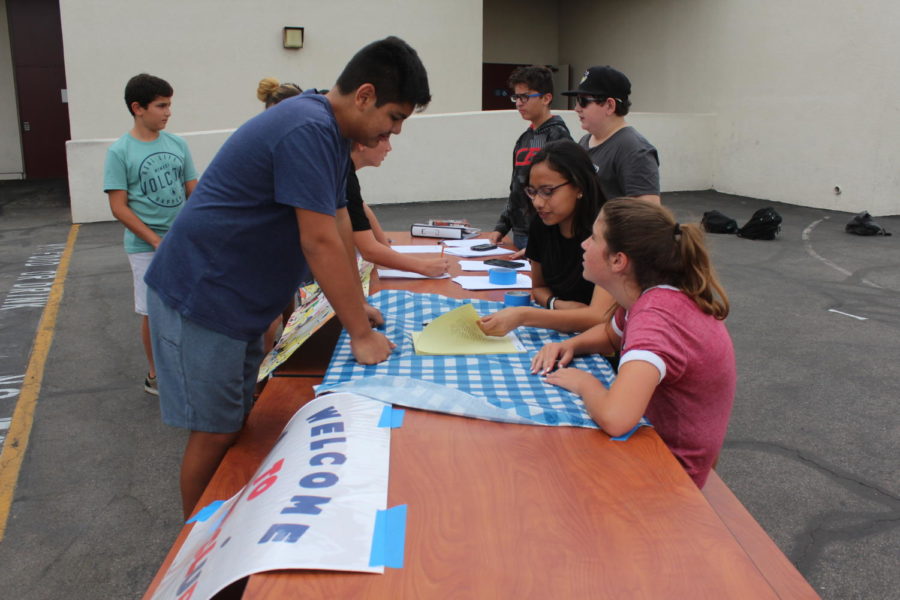 The 2nd Annual Club Rush hit Travis Ranch Middle School on Thursday September, 14th to a huge turnout of students.  In an effort for all of the clubs on campus to advertise their strengths and to recruit more club members during lunch, this event goes a long way in getting students involved in on campus causes. After a year that saw the addition of 4 new clubs and charity contributions never seen at Travis, this event has proven to be a hit with students.  Returning clubs are Athletic Club, We Club, Bible Club, Sign Language Club, Buddies Club, and Jump Club.
Clearly the club that brings in the most students is We Club. The club, which is advised by Mrs. Hellwig, is all about helping others and working together for a common goal. A second year member Natalie Neal stated, "It's a really fun club; you get to help and volunteer to help homeless people and donate to the families that need help."
Athletic club is another interesting club run by Mrs. Buckley and Mr. Shay. Every year, they hold sports intramurals, work local 5k races and held a shoes donation last year for the Souls 4 Soles campaign.
"This is a way for kids to be involved in the public service portion of running and see what goes into planning a large event," said Mr Shay."Most people think you can just show up and run but there is so much community help in running these events."
Bible Club meets every Wednesday during both lunches, they welcome all people and topics of faith and community are very impactful.
Sign Language is a fun and social club where you can learn the American Sign Language. The advisor is Mrs. St. Clair who also runs the Buddies Club, which assists students with special needs.
 Jump Club (Junior Upcoming Medical Professionals) is one of last year's new additions and has been very successful. " It's a good experience and learning ability for people who want to be in the medical field," said 7th grader Alex Panahi. The advisors are Mrs. Chapluk and Mrs. Beelner.
Additions to this year's club list have been anime club and app jam. App jam has a limited space so be sure to sign up fast if you want to join. Anime club is a new and exciting club. It was created by only two eighth grade students.
If you would like to learn more about any of these clubs, go to www.travisranchasb.org