Grab and Go Eateries
With limited in dining options, locals continue to flock to fast food.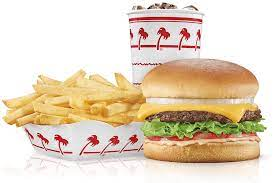 As COVID continues on, it seems to be natural that we start eating out more. Although dining in-person is restricted to an amount, at the moment fast food restaurants are keeping busy. Some of the most popular ones are In-N-Out, Chick-Fil-A, and McDonalds.
If you find yourself going to In-N-Out a drive thru line is expected. Depending on the time of day you show up the line will vary, but your average time waiting will be about 20-25 minutes. They are pretty good about making the lines move quickly so you shouldn't have to worry about waiting forever. At In-N-Out, they special in burgers and fries. They also offer shakes if you feel like a dessert, but their food is so filling, you won't find yourself buying this a whole lot. At the moment, you could wait in the drive thru or walk inside to order and eat at spaced out tables inside and outside the facility. Many enjoy their quality food including 
"I enjoy eating at In-N-Out because of their fresh ingredients, " said Ms. Worden 
If you are planning to go to Chick-fil-a, you will probably see the same kind of drive-thru line as In-N-Out with an average of a 20-25 minute wait. Here they special in chicken sandwiches, and kids meals. They have a pretty good variety when you are looking for something with chicken, whether in a sandwich, in strips, fried, or grilled, and do not forget about the spice.   "Chick-fil-a is my favorite fast food place to eat at because they have the best spicy chicken sandwiches, no question!" said Mrs. Carmona. Some desserts you can get here are multiple flavors of milkshakes, and specialty desserts that are being featured. We have seen cookies and brownies recently. Currently, they are not seating people inside their locations, but you can walk inside to order if you prefer that over the drive thru. Both Chick-fil-a and In-N-Out have good quality food, but one difference that I experience myself is the difference in prices. A Chick-fil-a meal would cost more than a meal you would purchase at In-N-Out. 
"Chick-fil-a is my favorite fast food place to eat at because they have the best spicy chicken sandwiches, no question!" -Mrs. Carmona
If you want to go to McDonalds expect a pretty short line to wait for food. All day people will come here to order, but the lines don't get too long. You would only have to wait for 10 minutes or less. They specialize in burgers and fries as well, but also serve a lot of more food directing to meals. At McDonalds you can have food relating to breakfast like hash browns, egg McMuffin, and blueberry muffins. Don't forget to get some coffee while you're at it. They are most known for their BigMac which is their signature hamburger. Some desserts offered are their famous McFlurry, soft serve ice cream, and cookies. Expect low prices when eating here, they are pretty similar in prices to In-N-Out.