Kansas Wins the March Madness Championship!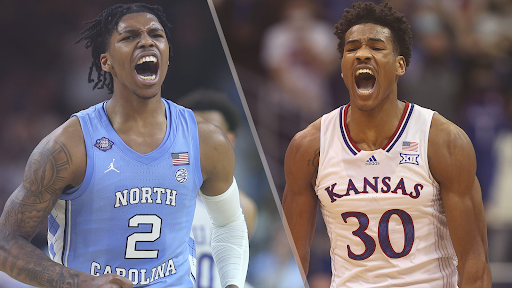 On Monday, April 4th, the Kansas Jayhawks beat the University of North Carolina Tar Heels with the biggest comeback in title game history. Kansas came back from 16 points, which beat the previous record of Loyola Chicago's 15-point comeback against Cincinnati. The ending score was 72-69, but there were lots of action and twists throughout the game.
UNC was actually up in the first half by 15 points. The score was 40-25. 
UNC's head coach comments in an interview during the first half, "It's live-action, Tracy! It's live-action out there. I thought we were nervous at the beginning then we started to settle in. We got better defensively. Now, we're attacking the basket. We're ready to go."
However, Jayhawks player, David McCormack, sets off a spark with a dunk within the first minute of the second half. The Jayhawks made a 20-6 run, and now they were only down by 1, with still about thirteen minutes to play.
By now, the score was 46-45. UNC and Kansas go back and forth until they tie at 50. A three-pointer made by Remy Martin gave the Jayhawks their first lead of the game. Both teams continue to play their hardest, but Kansas comes out on top with 72 points.
UNC's Coach Davis speaks about cheering up and consoling his players, "Thereafter it was important for me to do that because I love the players and I care for them, and they were very emotional and crying. That's my job is to support them and to care for them and to love them and to be there for them."